ANOM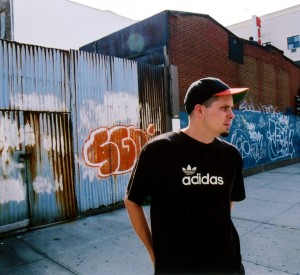 Born Brian Corrigan, ANOM (An Open Mind) discovered at an early age that hip-hop was an important, guiding force in his life. Growing up in Baltimore, Maryland Anom would race home from school to hear the latest underground hits on afternoon AM radio. The sounds of legendary crews such as The Native Tongues, The Juice Crew All-Stars, and Gang Starr would create the foundation for his life-long love affair with hip-hop.
Creative by nature, Anom would go on to receive a Fine Arts degree from Washington University in St. Louis, Missouri. It was at "Wash U" where he met close friend and future collaborator Yahya Jefferies-El, a.k.a. Yah Supreme. Their mutual respect and love for "true school" East Coast hip-hop would lead to the co-hosting of "The How To Flow Show", a late-night college radio slot the duo would hold down for two years on KWUR. The show nurtured Anom's individual style becoming the final piece of his musical foundation. Soon thereafter, Anom would be introduced to another talented young force in the St. Louis hip-hop scene, Producer Cave Precise.
Upon graduation, Anom returned to Baltimore but kept in frequent contact with Cave and Yah. The three would all finally relocate to New York City further committing to their musical pursuits and eventually forming SonDoo Recordings. SonDoo's mission was simple: making the best music possible without compromising integrity. Period. Infusing poignant thought-provoking rhymes with smooth, groovy production, the label would assemble a core of artists including both Yah Supreme and Anom, Bronx-born emcee Oktober, and St. Louis standouts Dee Surreal and Altered States of Consciousness. Completing the move to Brooklyn in 1999 and solidifying his place in the SonDoo roster, Anom used his artistic talents as Art Director for the fledgling label.
Anom's first single (produced by Cave Precise), Without A Shadow Of A Doubt was released in April 2000 to receptive reviews with the with b-side, Open Season charting for four weeks and peaking at number two on The Gavin Report's Hip-Hop Chart. In addition, Public Enemy's front man, Chuck D listed the single in his year's best 100 on bringthenoise.com. SonDoo continued to grow with the critical success of eight subsequent releases and international acclaim culminating in the 2001 compilation, For Your Information distributed in Europe by the French label, Underground Academy. SonDoo's final release included Without A Shadow Of A Doubt and a new single, The Bottom Line.
Son Doo closed its doors at the end of 2002 but Anom returned in 2005 with his full-length album, So It's Come To This. Flowing rhymes backed by a funky rhythm guitar, the title track and lead single sets the album's tone. So It's Come To This is as much a personal evaluation and call to arms as it is a straight head-nodder offering refreshing accessibility. The most avid hip-hop heads will embrace its purity while the casual music fan can sit back, relax and enjoy.
Influences such as Nas, Rakim, The Roots, Mos Def, and Ice Cube are evident while the album shows Anom's diversity, touching on various themes and subjects from personal demons to The United States' declaration of war on Iraq. Produced by Cave Precise, the ten-song effort is honest and personal. Concurrent with the rising disillusionment of the underground community, it is also an overt reaction to the branding of hip-hop culture.